A Tradition of Surveying Excellence
Founded in 1974 by Gus A. Sliger, former Chairman of the Florida State Board of Land Surveyors, Sliger & Associates, Inc. is the largest full-service professional land surveying firm in East Central Florida.
For more than forty years, Sliger & Associates has remained a family-owned and operated, drug free workplace that employs experienced, hard-working individuals that have helped to shape the entire development and infrastructure of the areas we live and work. Our team of professionals has continually provided complete customer service, consistent timeliness, accuracy, pioneering use of industry technology and a steadfast commitment to community service. When performance, reliability, and professionalism count, our reputation speaks for itself. We have successfully served the governments, businesses, and citizens of Central Florida since 1974.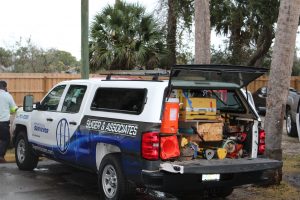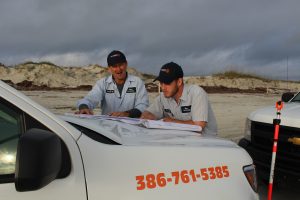 Surveying Expertise
Sliger & Associates brings more than 300 years of combined surveying experience to every project. Along the way, we pioneered much of the surveying standards and technology in Florida. Sliger & Associates was one of the first surveying companies to utilize GPSGPS: (Global Positioning System). A navigation and positioning system based on a constellation of 24 satellites, operated and maintained by the Department of Defense., robotics, laser and digital data collection in surveying. We continue to reinvest in our employees, vehicles, equipment and training to lead the industry and provide efficiency to our clients.
Sliger & Associates is licensed and qualified to provide most any type of survey, including: As-BuiltAs-Built: A survey performed after a construction project has been completed to re-establish the principal horizontal and vertical control points and to locate all structures and improvements., BoundaryBoundary: A survey made to establish or to re-establish a boundary line on the ground or to obtain data for construction a map or plat showing a boundary line., Condominium, Construction Layout, ControlControl: A survey which provides horizontal or vertical position data for the support or control of subordinate surveys, or for mapping., HydrographicHydrographic: A survey whose principle purpose is to determine data relating to bodies of water, such as depth of water and configuration of the bottom; directions and force of currents; heights and times of tides and water stages; and location of fixed objects for survey and navigations purposes., Mean High Water LineMean High Water Line: A survey to document the mean high water line as defined in Part II, Chapter 177, Florida Statutes (generally the average height of waters at a particular point over a period of 19 years.), Quantity, Right of Way, TopographicTopographic: A survey which has for its major purposes the determination of the configuration of the surface of the earth and the location of natural and artificial objects thereon., and Specific Purpose Surveys
We currently have 40 employees—more than 10% are women—who comprise our team of Directors, Licensed Professional Land Surveyors, Field Crews, a complete CADDCADD: Software program used in the design, drafting, and display of surveying and engineering applications. department, an independent Research Department, and exceptional Administrative Support.
About the Field of Surveying
Land surveying is one of the oldest recorded professions. The earliest accounts were found in Egypt (where men stretched a rope to take measurements), although it is believed that the Babylonians practiced surveying as early as 2500 B.C.

Some boundary monuments set in place around 1300 B.C. still exist today.

The earliest surveys in the New World were to map the country rather than delineate boundaries. Surveyors were needed to explore and map rivers and other waterways. After a variety of astronomers, mathematicians and frontiersmen performed the work, colonial surveyors (mostly men of high social position) were able to achieve some financial security, and in 1693, the College of William and Mary was charged with the responsibility of issuing Surveying examinations and licensing, as well as Surveyor General appointments. Among the most famous firsts were George Washington and Thomas Jefferson.

George Washington's original 1776 manuscript plat of his farm near Mt. Vernon is among one of 12 prepared by him that are held in the Library of Congress, Geography and Map Division.

The U.S. Rectangular System and land grants from European countries govern surveying in the state of Florida. The earliest surveys conducted in the 1800s divided Florida into one-square-mile sections, which were later subdivided into "Record Subdivisions" containing individual lots, the simplest means of conveying land today.